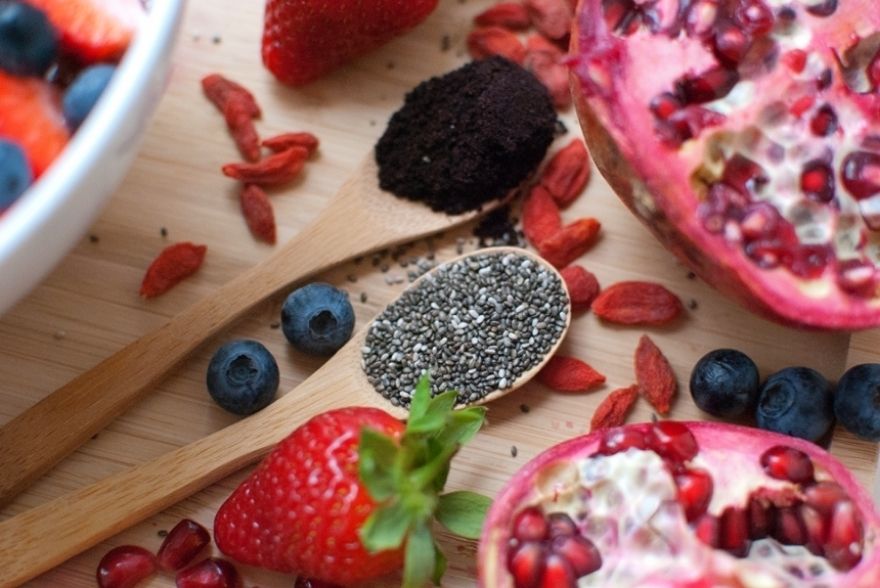 Hello lovelies, it is finally time to bring back `Superfood Sunday´! Since these posts are quite time consuming I decided to take a break during exams and my summer vacay, but now they are back and the plan is to bring you guys a new post every sunday. If the term superfood is new to you I would recommend reading my first post in the series, which focuses on superfoods in general – find it right here. Also make sure to check out my post on one of my favorite super foods chia seeds!
Today is going to be all about maca, which is a root originating from the mountains of Peru where it is used as not only as food ingredient, but also as medicine since it is well known for both its nutritional and health benefits.
Regarding its nutritional benefits maca is high in important vitamins and minerals like vitamin B, C and E, calcium, magnesium, zinc, iron and it is furthermore very high in fiber and contains phosphorous and amino acids.

Green superfood smoothie with maca
Clears skin:
Maca is known for its ability to help people suffering with skin problems and even acne. I know several people who have had a very positive experience with using maca to treat their skin problems and since I will be going off the pill – which is the only thing keeping my skin from being a total disaster – I really hope it can help me as well. Haha and just to be clear I am going off the pill because I do not want to fill my body with all those hormones, definitely no babyplans for this single pringle ;)
Balance hormones:
Maca is also know to balance hormones, relieve menstrual issues and menopause and even increase fertility. Aaand described in more "scientific" language; "Maca is an endocrine adaptogen, meaning that it does not contain any hormones, but rather it contains the nutrients necessary to support normal hormone production." – Source. "Maca stimulates and nourishes the hypothalamus and pituitary glands which are the "master glands" of the body. These glands actually regulate the other glands, so when in balance they can bring balance to the adrenal, thyroid, pancreas, ovarian and testicular glands." – Source
Improves sexual function:
Maca is furthermore used to improve the sexual function of both men and women as it is said to improve libido and increase endurance – it works particularly well on men and is even called "natures viagra". 

Depression:
Maca is reported to have a positive effect on people suffering from depression, I could however not find any solid research to back this.

Boost energy levels:
Because of its ability to increase energy levels maca is used to treat chronic fatigue, but it also works as a good energy booster for those of us who just need a little extra energy in our everyday life. Many athletes are even known to use maca to increase stamina and improve their performance. I personally use it for the energy boost and it definitely works, but be careful to not take too much and do not take it at night or else it might affect your sleep or cause rapid heartbeat.

Energy boosting smoothie with maca
Maca is available in both capsule and powdered form and can be used both as a supplement or as a food ingredient. I personally use the powdered form and I mostly use it in my smoothies, but I also add it to my oatmeal (recipe below) and bliss energy balls (recipe coming asap). However, keep in mind that maca is quite strong and therefore should be taken in small amounts, half a teaspoon is enough when you first start taking it and then you can slowly increase the amount as your body gets used to it.
Please be aware that other than the nutritional benefits offered by the vitamins and minerals, the health related benefits are so far only anecdotal, as there has not been any formal medical studies of maca.
Sources + more info: VegKitchen, Wikipedia, Natural News, Wellness Mama
Chia/maca oatmeal:
3-4 dl water
2 dl oats
1 tbsp. chia seeds
2 tbsp. skyr/greek yoghurt
1/2 – 1 tsp. maca
Sweetener of choice – I used a little stevia and a little acacia honey
A pinch of salt