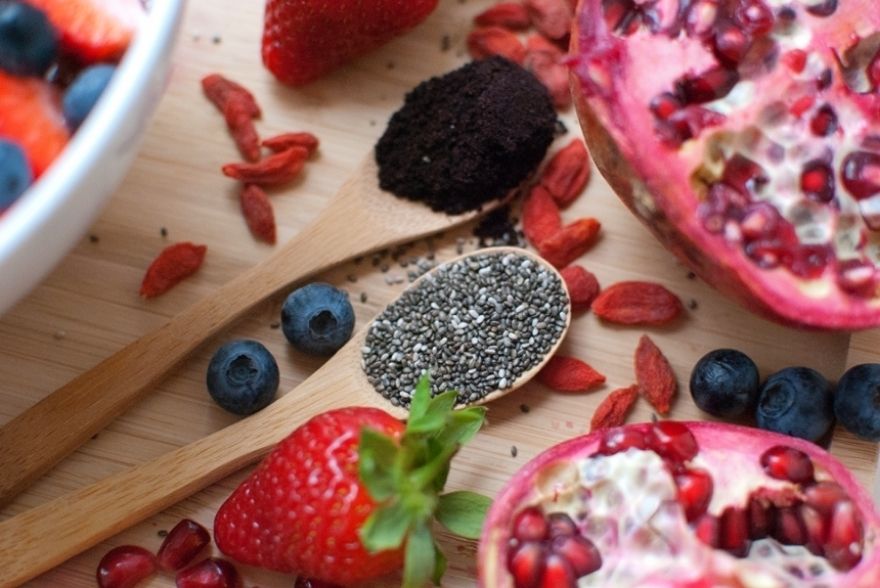 Hello lovelies, it is sunday once again which means that it is time for `Superfood Sunday´ and yet another post on one of my favorite superfoods – this week it will be all about the acai berry! If the term superfood is new to you I would recommend reading my first post in the series, which focuses on superfoods in general – find it right here. Also make sure to check out my previous posts on chia seeds, maca, blueberries, broccoli and goji berries.
The acai berry is an antioxidant-rich fruit from acai palm trees in Central and South America. The berry is pronounced "ah-sigh-ee" and is small and round with a dark purple, almost black color and is often described as a mix between a blueberry and a grape. The Amazon berry is rich in minerals and vitamins and is described as a true nutritional powerhouse as it is furthermore packed with not only antioxidants, but also amino acids and essential fatty acids.

Acai chia pudding – find the recipe right here!
"Acai berries can be a tremendously healthy addition to your diet, and helps to increase heart health, aids in weight loss, as well as aiding in health issues relating to your skin, digestion, allergies, immune system, and energy levels. Furthermore, research has shown it to be one of the best sources of antioxidants, an aphrodisiac, a brain booster, and a great weapon against premature aging, cancer, and unexplained fatigue or exhaustion. Overall, this miraculous little berry can have a huge impact on your health and happiness!"
–Source
Health benefits:
Improves heart Health
Resistant to Harmful Organisms
Aids in Weight Loss
Promotes Skin Health
Helps with Digestive Upset
Reduces Irritation
Improved Cellular Health
May Help Fight Cancer
Anti-Aging Effects
Energy Boost
-Source and more information here and here.

Acai smoothie bowl – find the recipe right here!
How to consume it:
The acai berries are unfortunately highly perishable so once they are harvested, they should either be consumed right away or be processed, which is why it is sadly not possible to eat the berries fresh and unprocessed in most parts of the world.  The berry is instead available as juice, frozen pulp, powder or capsules in most parts the world and is a good alternative to the fresh berries. I have personally only tried acai in powder form, which I love to add to my smoothies and acai bowls for an extra boost. You can find some of my recipes using acai powder by clicking the links underneath the pictures, enjoy!



Raw acai cashew bites with coconut and lime – find the recipe right here!
Where to find it:
Even though the acai berry is becoming more and more popular I have yet to find it anywhere else than health stores and online, but I have been told that you can find acai juice and the frozen acai pulp in grocery stores in Australia and USA.
When buying acai I would recommend looking for raw and organic products to ensure optimal nutritional- and health benefits. You can buy it here or here. Affiliate links.

Raspberry smoothie bowl with acai – find the recipe right here!